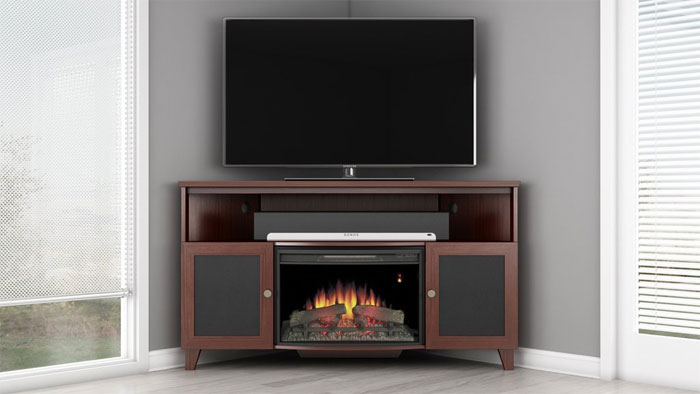 60″ Corner TV Stand with Curved Electric Fireplace
Furnitech makes one of the most sophisticated-looking, stylish combination TV stand and electric fireplace that I've seen. And they now make a model that fits in corners!
Why Do People Like this Corner TV Stand/Electric Fireplace?
A big reason that many people are attracted to this corner TV stand (besides its looks) is that fact that it can hold a 60″ TV. Most corner consoles can only fit TVs up to 45″ or 48″. This feature alone can be a game changer.
If you have a smaller TV, that's fine. However, if your TV is bigger than the furniture that holds it, well, it just looks funny. And it can look cheap.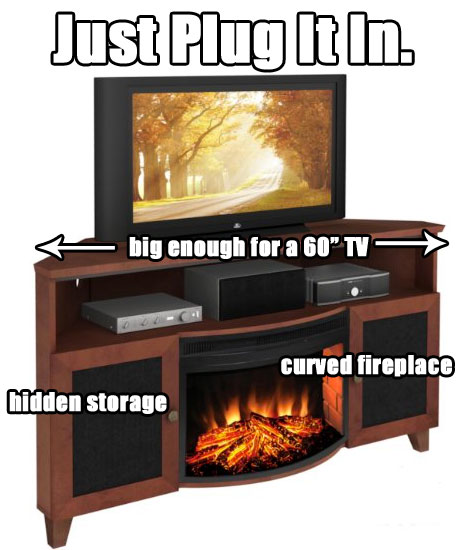 In my opinion, in you have a bigger television (40″+), go with the larger sized TV stand. It will make your TV and entire room look more impressive, and you won't be kicking yourself every time you watch your favorite show.
…and This 60″ Corner TV Stand is Hot.
However, many people don't realize that this unit can give off a good amount of heat as well. Yes, it does it all.
In addition to providing ambiance and a spot to put your television and complete entertainment system, this TV stand can heat up a 400 square foot room.

Even if your room is larger than 400 square feet, there is a good chance that you will have a sofa or lounge chairs close by for watching movies and football games. You will have no problem feeling the heat.
(FYI, just in case you're wondering, the National Association of Home Builders states that the average living room size ranges between 256 and 393 square feet, and the average family room size ranges between 404 and 503 square feet).
But You'll Love How Easy It Is…
And as sophisticated as this elegant furnishing looks, all you need is a standard wall outlet to plug it in. It comes with a convenient remote control that allows you to control the flame and the heat with a few clicks. Turning on the ambiance can't get any easier than this.
But let's get back to the storage for a minute. Storage isn't really that exciting, except for the fact that this unit can hold everything from sound system speakers, game consoles, DVD players and other electronics.
The two spacious side cabinets can also keep miscellaneous items out of sight. Plus, all cords can be conveniently routed through the holes in the back of the cabinet, so you can easily keep your room looking clean while everything is easily within reach when you need it.
And Save Money? What?
By the way, if you're looking to save energy or cut down on your energy bill, this electric fireplace is inexpensive to run. Plus, it does not emit smoke, toxic fumes, dust or ashes.
In fact, that's one of my favorite features of electric fireplaces: they are simply low maintenance. Just like a good friend. =)
Chose from 2 styles/colors:
Contemporary Style in Dark Cherry
Shaker Style (with legs) in Dark Wenge. A wenge finish is a dark, almost black color with streaks that make the wood look like the real (and expensive) wenge wood.
Specs:
Dimensions: Approx 61″ Wide x 18″ Deep x 34″ High
Wood framed doors have interior adjustable shelves
4770 BTU's (see BTU Calculator if you want to know the amount of energy needed to heat your home.)
120v 60Hz – 1400 Watts (To see cost per hour per watt, check out the energy cost calculator.)
Plugs into standard wall outlet
Approx 193 lbs
Assembly required