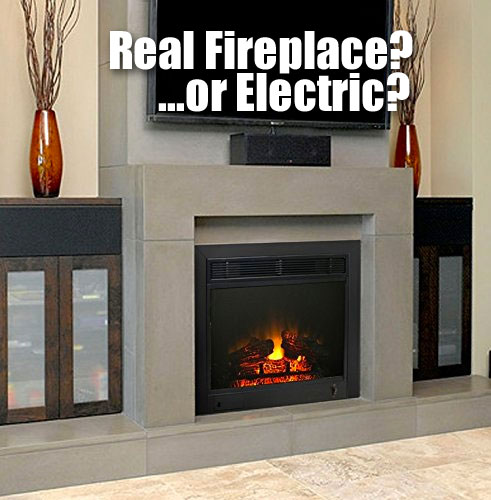 Ways You Can Install Your Electric Fireplace Insert:
Although this looks like a real, built-in fireplace, it's actually an electric fireplace insert. In fact, the insert itself only costs about $300.
Most people buy fireplace inserts and install them directly flush with the wall. This is usually the cheapest and easiest way to add a fireplace to your home.
On the other hand, you can put inserts in existing fireplace mantels, or build a mantel to surround the insert. With a mantel, you can create the look and feel of a traditional fireplace.
Remodelaholic shows steps to building a DIY custom fireplace mantel using mainly plywood and crown molding. It's really cool. And yes, it can turn into an elaborate do-it-yourself project. However, you can really trick your guests into thinking you have a real fancy fireplace.
And here's another way you can create a sophisticated-looking fireplace mantel with stone. You could also do this with stone veneer panels. Building it yourself is a great way to cut costs but still achieve a designer look in your home.
In addition, you can customize the design, from rustic wood mantels to modern concrete surrounds and more. You can take the money you save on permits and venting for a traditional wood or gas fireplace and put it towards a really cool mantel. Alternatively, you can save your money and spend it on something else like a flat screen TV.
Save Money with the Paramount Fireplace Insert
Switching out a wood log or gas-burning fireplace can save you money, not to mention time spent cleaning. In addition, you can operate electric fireplaces with or without heat.
This means that you can enjoy your fireplace more often – and still save money. The built-in control panel lets you adjust the flame size and heat output to your liking. Plus, the unit comes with a timer.
23″ Paramount Fireplace Insert Specs:
Dimensions: 26.8″ wide x 22.1″ tall x 9.1″ deep
Weight: 35 lbs
Heats up to 400 Square Feet
Includes 1.5″ Trim Kit to Hide Imperfections in Mantel, Wall or Surround
Has Control Panel for Heat & Timer Plus Remote Control
CSA Certified (energy efficient)