Dimplex Novara Electric Fireplace & Media Console
If you have a large blank wall in your living room or family room, an easy to decorate the space while also making it functional and impressive is with an electric fireplace TV stand.
Easy, Cost-Saving and Efficient…
Instead of purchasing a TV stand, a media console center and then a fireplace separately, you can save a bunch of money by getting all 3 pieces in one. Not to mention, they can create a stunning focal point in any room.
Plus, you can choose from lots of different styles. Take the Dimplex Novara, for example. It comes in both black and white, but as you may not have noticed, you can choose from either a traditional log-burning fire or one with a more modern glass ember bed.
What I really like about these unique fireplaces is that they are extremely functional and efficient (great for small spaces too!). The console isn't much larger than the fireplace itself. Yet it provides lots of storage space and a convenient spot for a large screen TV in addition to the heating unit.
You don't have to shop for a bunch of furniture that matches each other, nor do you have to have a fireplace and install an insert. Just get the one unit and you're done. Now that's my kind of shopping (They will even ship it to you for free).
Specs:
Dimensions: 64.2″ long x 16″ deep x 24.1″ high
25 inch self-trimming widescreen electric firebox
Supports flat screen TV up to 60″
On-demand heat, thermostat-controlled and heats up to 400 square feet
Dimplex is known for their realistic-looking 3D electric fires – but did you know that they use 90% less energy than gas fireplaces? You'll save money month after month, and you won't even have to clean out the ashes.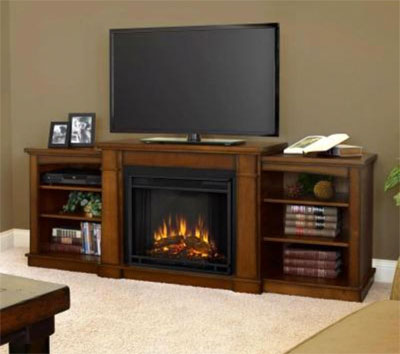 Want More Traditional?
The Hawthorne model from Real Flame comes in "Burnished Oak". This real wood furnishing looks more expensive than it is and can instantly upgrade the look of any living space. It could even work well in a library, office or master bedroom.
Something Really Cool:
Something really cool about this entertainment center is that not only does it come with a remote control that can adjust the brightness of the fire and also the temperature – you can also set a timer for it.
Talk about set it and forget it! What a great way to walk into the house after a long day at the office – or to wake up to in the morning. No having to worry about burning the house down or falling asleep without putting out the fire.
Specs:
Dimensions: 75″ long x 30″ high x 19″ deep approximately
Sturdy enough to hold a 100-lb TV
Heat: 1400 Watt, 4780 BTUs per hour
The West Lake Fireplace "Bench" has more of a contemporary feel, but the dark espresso wood (and it also comes in black) make it fit well in homes with more of a ranch or cabin-type feel.
Although this is one of the less-expensive models (plus free home delivery), it is by no means cheap looking.
The boxy design of the console along with the closed-in shelving make it a make it a great candidate for placement between 2 tall bookshelves of matching color and similar depth. You could almost make an entire wall look like a custom-built entertainment center like this for very little cost.
Specs:
Dimensions: 60″ wide x 28.2″ hight x 19″ deep
Can hold up to a 68″ TV
In short, an electric fireplace TV stand is an easy and effortless way to make a room look more sophisticated. It's also a great option for people who rent apartments or homes that don't have fireplaces. Just plug in your unit, and you're ready to enjoy a warm log-burning fire. When you move, you can take it with you!