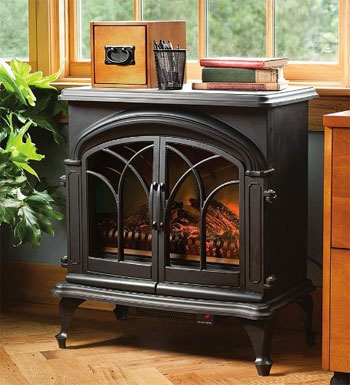 I'm all about saving energy and the simplicity of electric fireplaces, but this portable electric fireplace takes the cake.
It's powerful enough to heat up to 400 square feet, yet it's light enough that you can pick it up and carry it from room to room. Just plug it in.
Plus, it looks like a charming wood-burning stove that will add character and style to any space.
But Wait! Are those books on top of the hot fireplace!
Don't worry. The stove surface of these portable heaters stay cool to the touch, so you have less to worry about especially if you have young kids or pets.
Sure, there are lots of types of electric heaters that you can buy, but how many can you leave out and enjoy all year round? (you can run the flames independently from the heater). Plus, now that you know that you can stack stuff on top of your heater, it's suddenly become multi-functional.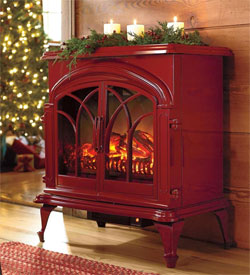 Plow & Hearth is known for offering a great line of fireplaces, stoves, heaters and other stylish, fun (yet affordable) home decor items. This is another one of their great products. Get ready for the holidays!
Specs:
1,500 watt heater
Comes in black or red, enamel finish
Dimensions: 26″ x 15-1/2″ x 28″ high
Cord length approx 5.5′
Watch a video demo here:
Click here to find out more
Want a Smaller Electric Fireplace?

If you're looking for a smaller version of the model above (with a lower price tag), Dimplex makes a compact electric stove that has realistic-looking flames.
This Electralog stove itself does not look so realistic, however, due to it's smaller size, but if you're looking to save money you may not care. Plus, it still can heat a 400 square foot room. Not bad.
It even comes with a remote control and thermostat controls, which let you easily control the heat that is given off at any time. You can even turn on the flickering flames and glowing embers without turning on the heat.
This unit is perfect for a guest bedroom or studio apartment, where space is limited or you plan to use it to heat a particular space that doesn't get used regularly. It's quiet, safe and cool to the touch. Plus, the 3D flames and hand crafted glowing log set are way more impressive than a flameless heater.
Specs:
Dimensions: 21.6″ Tall x 17.4″ Wide x 12″ Deep
Weight: 28 lbs
Heats Up to 400 Square Feet of Space
Costs only 1 cent per hour with flame operating (WOW!), 9 cents per hour with both flame and heat (based on average national residential electricity rates)
How About a Freestanding Electric Stove?


Another smaller yet powerful portable electric fireplace is Duraflame's Freestanding Electric Stove.
It's pretty straightforward with features almost identical to the stoves above, and I won't go into the details (because there aren't any!).
It heats up to 400 square feet and flames can be turned on without using the heat. Let it provide a soothing, relaxing environment right in the middle of summer! It also comes with a dimmer switch for the flames, which is pretty cool.
Specs:
Dimensions: 21″ x 10.8″ x 22.8″
Weight: 19 lbs
1500 Watts/4600 BTU's per hour
See the flames in action here:
Click here to find out more