I'm all about saving energy and the simplicity of electric fireplaces, but this portable electric fireplace takes the cake.
It's powerful enough to heat up to 400 square feet, yet it's light enough that you can pick it up and carry it from room to room. Just plug it in.
Plus, it looks like a charming wood-burning stove that will add character and style to any space.
But Wait! Are those books on top of the hot fireplace!
Don't worry. The stove surface of these portable heaters stay cool to the touch, so you have less to worry about especially if you have young kids or pets.
Sure, there are lots of types of electric heaters that you can buy, but how many can you leave out and enjoy all year round? (you can run the flames independently from the heater). Plus, now that you know that you can stack stuff on top of your heater, it's suddenly become multi-functional.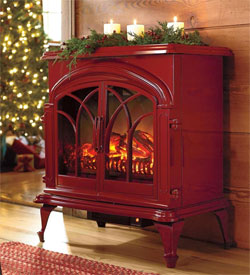 eFlame USA is known for offering a great line of fireplaces, stoves, heaters and other stylish, fun (yet affordable) home decor items. This is another one of their great products. Get ready for the holidays!
Specs:
1,500 watt heater
Comes in black or red, enamel finish
Dimensions: 26″ x 15-1/2″ x 28″ high
Cord length approx 5.5′
Watch a video demo here:
Click here to find out more
Want a Smaller Electric Fireplace?

If you're looking for a compact stove heater with a lower price tag, check out this generic model for about $100.
This affordable model doesn't come with lots of features, and the flames are not so realistic. However, if you want to save money and just heat your space, you may not care.
Plus, it comes with 2 heat warmth levels, overheat protection and you can illuminate the flames and embers without the heater. Not bad.
This unit is perfect for a guest bedroom, studio apartment or infrequently-used space. It's quiet, safe and cool to the touch.
Specs:
Dimensions: 26.4″ Tall x 25." Wide x 14.2″ Deep
Heats Up to 400 Square Feet
Costs only 1 cent per hour with flame operating (WOW!), 9 cents per hour with both flame and heat (based on average national residential electricity rates)

How About a Freestanding Electric Stove?
Another smaller yet powerful portable electric fireplace is Duraflame's Freestanding Electric Stove.
The features almost identical to the stoves above, so I won't go into the details (because there aren't any!).
It heats up to 400 square feet and flames can operate without using the heat. Plus, it comes with a dimmer switch for the flames, which is pretty cool.
Specs:
Dimensions: 21″ x 10.8″ x 22.8″
Weight: 19 lbs
1500 Watts/4600 BTU's per hour
5 Reasons to Buy a Portable Electric Fireplace:
1. These Portable Fireplaces are Easy to Set Up, Use & Maintain:
DIY Delight: Setting up these fireplaces is usually as straightforward as assembling IKEA furniture.
Ready to Roll: In most cases, it's ready to use out of the box. No rocket science involved; just plug it in and voilà, you have a charming, faux fire.
Portability: Most portable electric fireplaces are lightweight and nimble. Also see this high-tech portable fireplace.
Placement: While portable, it's wise to allow proper clearance in front, where warm air blows out. That said, you can set up the stove against a wall since the the flames are not hot. You can also get a wall hanging fireplace that installs in minutes.
Easy Care: Maintenance is a breeze; you don't need a chimney sweep. Just keep it clean and wipe the dust. Even the lightbulbs rarely need changing.
2. Electric Fireplaces are Energy Efficient & Cost Effective:
Heating Efficiency:
Effectiveness: Portable electric fireplaces can effectively heat areas ranging from 150 to 400 square feet, depending on the model. plus, they work great for that extra toasty boost or zone heating.
Primary or Supplemental: They're fabulous for supplemental heating, but not usually as the primary heat source.
Energy Consumption:
Electric Bills: Fear not, these fireplaces are generally energy-efficient. They'll cost you about 8-12 cents per hour, which is often less than your daily coffee fix. How an electric fireplace heater can save you money.
Energy-Saving Features: Many models come with nifty cost-cutters, like a built-in thermostat or timer.
3. They are Safer than Other Types of Fireplaces:
Safety First: Modern portable electric fireplaces come with overheat protection, cool-to-touch surfaces and tip-over safety switches. Before you buy an electric fireplace, review this checklist.
4. These Electric Stove Heaters Have Realistic Flames:
Flame Realism: The flames are quite convincing, but they don't trick everybody. They use LED lights and mirrors to create the illusion. You can also tweak flame color and intensity.
5. Portable Fireplaces Don't Make Lots of Noise:
Sound Quality: Think of it as a soft whisper. The hum of the fan is akin to distant white noise. Plus, you won't find them annoying because these fireplaces are quieter than most household appliances.