Do you have a large blank wall – and you're not sure what to do with it? Or do you have a small living room that's just… blah?
A wall-mounted or a recessed electric fireplace can really add style and sophistication to a room (and did I mention heat?). They make it easy to relax and wind down in the evenings, plus they provide an impressive focal point when entertaining guests.
The cool thing is that you don't have to have an existing hearth or chimney to install one of thee units. You don't have to cut a hole in your wall either (for wall mounted versions).
Plug them in and enjoy beautiful flickering flames for about 2 cents/hour (thank you LED lights) or turn on the heat and warm up a 400 square foot room.
Pros and Cons:
Flush mounted (or recessed) offer a more finished, professional look, but of course require more time, work and cost to install. They can also be more expensive themselves. Wall mounted versions typically are cheaper but appear more "temporary" and not as realistic because they stick out from the wall.
Whether you choose a wall mount electric fireplace or the recessed version, both have their advantages and disadvantages. We discuss both versions below.
1. Recessed Electric Fireplaces:
Flush-mount fireplaces can provide the custom, built-in look that many homeowners want – without the time, work and cost that you normally would expect. They really don't take up any additional space in a room, yet they both add style and functionality at the same time.
Many models, like the Touchstone Sideline shown on the left above, have a variety of heat settings, including heat for a room up to 400 square feet. You can control the flame and heat conveniently with a remote control (and you thought that not having to clean up ashes was nice!).
Note: Some wall mount versions have the heating unit located on top and therefore can't be recessed. The Sideline, however, can because the heating unit is on the front.
One unique feature that I like about the Sideline is that it's designed as a flush-mount fireplace, but you can also hang it on the wall rather than recessing it.
Specs:
Dimensions: 50.4″ wide x 5.8″ deep x 21.4″ tall
In this video, Touchstone Home Products shows how their wall-mounted fireplace works, how to install it (both recessed or wall-mounted), spacing recommendations, etc..
Click here for more information
2. Wall Mount Electric Fireplaces:
Let's take the Moda Flame Houston 50″ as shown on the right.
You can position it over a console, cabinet, sofa – or you can add faux stone veneer panels (like these) on the wall around it to create the appearance of a real log burning or glass ember fireplace.
Install it higher up on the wall, like at eye level where you might normally hang a piece of artwork. Alternatively, you can install it lower on a wall, like a typical hearth. Add a wall mount fireplace somewhere untraditional – like a bathroom, a kitchen or a front entry way.
Think outside the box. You have lots more possibilities than you would with a regular fireplace, especially because this is a smokeless, ventless unit that doesn't require a gas line or a chimney. Also keep in mind that models come in more square shapes as well as the elongated version shown. I don't mean to make your decision more difficult or anything…
Specs:
Dimensions: 50.4″ wide x 5.5″ deep x 21.65″ tall
1,500 watts, heats up to 400 square feet
Power consumption: 2.5W per hour
3 heat settings, including only flame effect
If mounting under a TV, fireplace needs a minimum of 36″ clearance
Comes with remote control and timer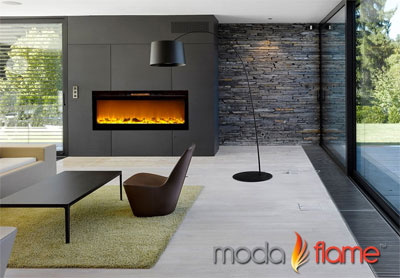 The Moda Flame Cynergy is very similar to the Houston except that it features glowing pebbles instead of burning logs.
Both are smokeless and ventless fireplaces with remote controlled heating units, timer and mounting hardware included. Also the Cynergy measures 4.9″ deep vs the 5.5″ of the Houston.
As you can see from the photo, you don't need a formal fireplace surround to show off this insert. The frame that surrounds the enclosure provides a very polished look without having to build anything else around it.
And if you want flames that change colors or stay set on a color of your choice, check out the Dynasty, which ranges in size from 35″ wide to 79″ wide.
How to Install a Recessed or Wall Mounted Electric Fireplace
"Building a Fireplace" takes on a whole new meaning when you see how easy it is to install an electric wall-mounted or recessed version. These "kits" typically include all of the hanging hardware that you need, and installation can't get much simpler.
See what I mean:
Click here for info on the Napoleon Electric Fireplace