A corner can be the perfect location for a fireplace, especially if you don't have lots of space. Speaking of maximizing space, a fireplace that can house a TV on top provides even more advantages! I've listed the 5 Best Corner Electric Fireplace TV Stands that I found under $500…
1. Cartwright Convertible Electric Fireplace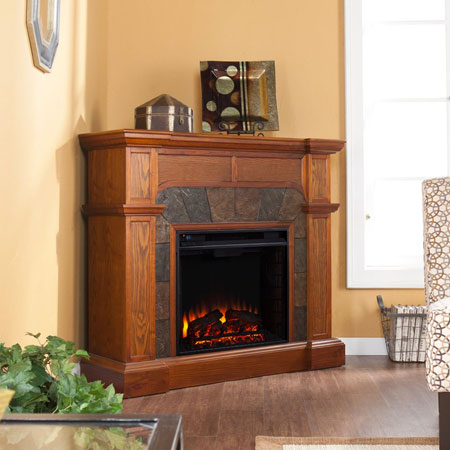 The Cartright is unique in that it can fit in a corner of a room or alongside a wall. Thus the "convertible" name. It also comes in 3 different colors, classic espresso, ebony and mission oak (shown).
It does include a remote control, and at 1500 watts and 5,000 BTUs, this unit can comfortably heat up to 400 square feet.
The multi-color flames and ember glow are more lifelike than lower-priced models. The interior of the fireplace even looks like real brick.
In addition, the wood grain finish and crown molding details add a lot to this fireplace, even when not turned on. This extra attention to detail gives the Cartright a more expensive look, even though it's still priced at under $500.
This electric fireplace is large enough to fit a flat-screen TV up to 43.5″ wide and 85 lbs.
Dimensions: 45.5″ high x 15.5″ deep x 40.2″ wide

2. Real Flame Chateau Corner Electric Fireplace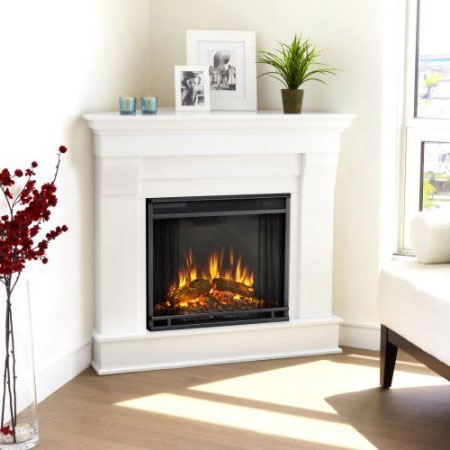 Do you want a modern-looking fireplace for a contemporary home or loft apartment? The Chateau electric fireplace has a simple yet sophisticated appeal.
It is also a somewhat smaller version. Therefore, it can easily fit in smaller spaces where others might take up too much space or look too big.
The white is especially nice if you have white walls and want your fireplace to have a more built-in look. It also comes in espresso if you prefer a darker color.
The Chateau uses Ultra-Bright Vivid Flame LED Technology. It comes with a programmable thermostat, timer function, brightness settings and a convenient remote control.
This electric fireplace has a 1400-watt heater rated at 4,700+ BTUs per hour.
Dimensions: 40.9″ high x 25.3″ deep x 37.6″ wide

3. Claremont Convertible Media Electric Fireplace

Enjoy realistic-looking multi-colored flames along with a glowing ember bed.
The 1400-watt Claremont can comfortably heat a room up to 400 square feet. The unit comes with a remote control that allows you to control both the heat and the flames without having to get up from your seat.
It can fit a flat screen TV up to 46″ wide and up to 85 lbs. In addition, this model provides shelf and cabinet space for storing electronics, gadgets, DVDs, books, etc..
This fireplace features the convertible style, so it can be situated in a corner or along a flat wall. Again, this trait is nice if you happen to move or decide to use the fireplace in a different room.
Available in cherry, brown maho, black, ivory.
Dimensions: 48″ high x 15.75″ deep x 32.25″ wide (flat) or 48″ x 27″ x 32.25″ (corner)
4. The Sumner Corner Electric Fireplace TV Stands

This traditional-style unit fits snugly in a corner, yet it has a more 3-dimensional feel. It comes with a 1500-watt heater that can heat a larger-sized living room or family room up to 400 square feet.
It is large enough to fit a flat-screen TV up to 45″ and 100 lbs.
The downside is that the Sumner does not come with a remote control. That said, this unit is well-priced at around $250. Not a bad trade-off.
Dimensions: 41.5″ high x 15″ deep x 35″ wide

5. Real Flame Churchill Electric Fireplace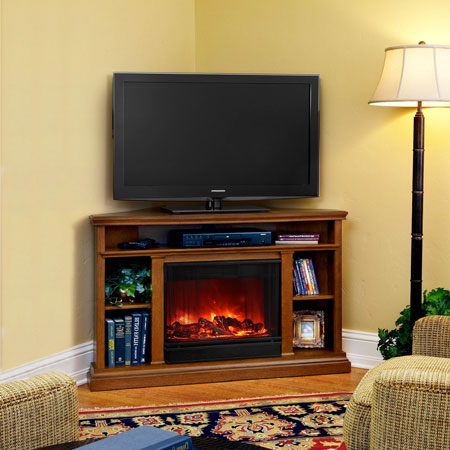 If you want your fireplace/TV stand to have more space-saving capabilities, this Real Flame fireplace may be your unit.
The Churchill has shelves that can fit more electronics, books and home decor. In addition to being a fireplace and TV Stand, it also acts as a mini entertainment center.
Not to mention, the fireplace has a 1400-watt heater.
Dimensions: 50.8″ high x 30.5″ deep x 33.1″ wide