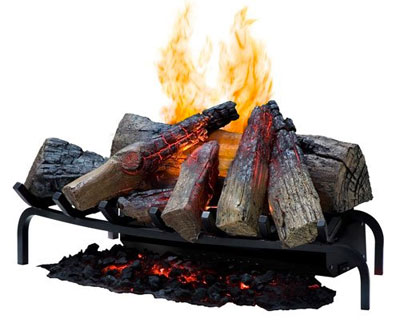 Do you have an existing wood or gas fireplace that you'd like to convert to electric? You can actually get electric fireplace logs without having to buy an entire insert.
Although some of these log sets are labeled as "inserts", I don't consider them the same thing. Typical fireplace inserts need to match the exact dimensions of the fireplace opening and sometimes have a glass front that encloses the "fire".
Electric fireplace logs, on the other hand, don't need to match exact dimensions. These units usually include ceramic-formed logs on a metal grate with molded embers underneath, which you simply slide into the fireplace opening.
It provides the look of an open-hearth fireplace, which some people prefer. It is especially nice for Dimplex Opti-Myst units, because it displays the steam fire really well.
You can see what I mean here:
Dimplex Opti-Myst DLGM29
As you have probably already noticed, Opti-Myst electric fires look surprisingly real because the steam used in the system. It creates 3-dimensional flames as well as the look of smoke – without causing any harmful emissions.
Behind the ceramic logs and grate is a small tank that you fill with water. Then enjoy realistic fires for up to 17 hours before having to re-fill the tank.
And if you thought that was easy, this unit comes with a remote (of course!)
Fireplaces with the Opti-Myst technology do cost more, but the effect is like no other electric fireplace. That's why I think it is a good option for an open-hearth design.
Specs:
Weight: 30 lbs
Dimensions: 14.8″ x 28″ x 12″
Bulb Voltage: 120 volts

Another option is to get a log set that includes a built-in heater.
The Duraflame DFI020ARU-A004 electric fireplace can operate with or without heat, so you can comfortably use it year round. This nice advantage is that you can use it as a supplemental heat source for up to 400 feet if you want (and to make your faux fire feel more real).
Although this unit does not come with the steam/smoke effect, it looks fairly realistic – whether it is on or off. Just like the Dimplex model above, it includes pulsating lights under the logs and embers, making it appear as if there is wood really burning.
According to ElectricFireplacesDirect, "Electric fireplaces produce less heat per unit, but can be a great way to utilize zone heating since there is little heat lost up the chimney. To compare, electric heaters will cost an average of 8-12 cents per hour to produce heat, making the average about $25 a year."
In addition, this model (as well as the others) uses LED lights, so it may be more energy efficient that you thought. You may never even need to replace them!
Specs:
Weight: 18 lbs
Dimensions: 8.7″ x 20.5″ x 12″
1400 watts/4600 BTU per hour

Pleasant Hearth also makes an electric fireplace log set, although I don't think the grate looks as realistic.
Similar to the Duraflame model above, this one includes a built-in forced air heating feature that heats up to 400 square feet. The main difference is that this unit has a high cast iron back on which the fire reflects.
This can be nice to have if the rear of your fireplace is a light color. This is because the flickering lights will not reflect as brightly as they will off a black surface.
Specs:
Weight: 23 lbs
Dimensions: 21.75″ x 23″ x 10.75″

These electric log sets typically run between $150 and $1,000 in price, much cheaper than other types of fireplaces. Keep in mind that cheaper versions generally look less realistic.
How to Save Money:
If you are on a budget and are looking for the cheapest fireplace insert, I have a suggestion. Get electric fireplace logs, a decorative fireplace screen, cracking flame sound effects and a smoke-scented candle. You can even buy an electric fireplace with crackling sound.
Therefore, you can have your cake and eat it too: save a bunch of money and fool all your friends into thinking you have a real wood-burning fire.