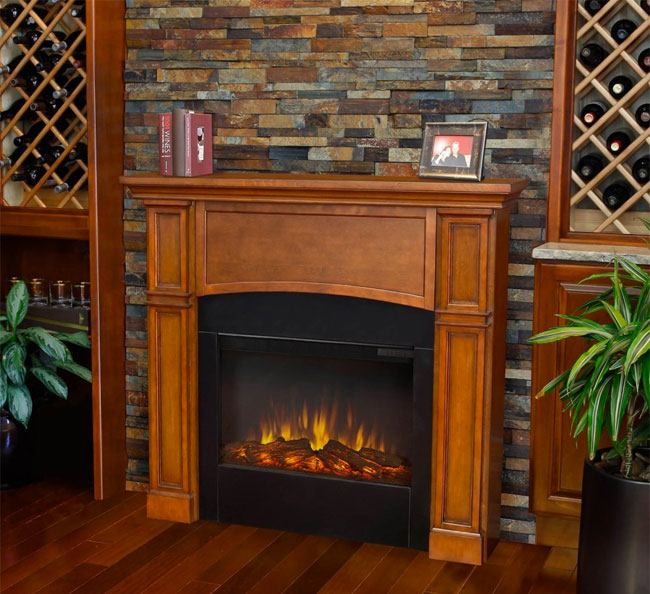 Note: If the Real Flame Slim Line is out of stock, check out the new Cambridge Sienna. It also features a slim design with only 10″ depth.

Plus, you get a choice of mantel finishes: teak, cherry, mahogany, walnut or white. So, you can get one for the living room and one for the bedroom and achieve totally different looks.

The mantel measures approximately 3 feet wide by 3 feet tall and weighs less than 50 lbs, so it's really easy to move. Not to mention, installation is simple – just plug it into a standard wall outlet!
Maybe you have a small living room or den, or maybe you want your fireplace to have a more "built-in" look. Whatever the case is, the Real Flame Bradford Slim Line can provide an instant solution. Well, almost instant.

As you may or may not be able to tell from the above photo, this electric fireplace only sticks out about 9 inches from the wall. In other words, it requires very little floor space. This means that you can put it virtually anywhere without having it getting in the way.
I also like the fact that the slim design makes it actually look like the fireplace is built into the wall. It looks more like a real, traditional fireplace as opposed to a contemporary ultra thin fireplace.
If you like the look of the stone wall behind the fireplace, check out the faux stone wallpaper you can get on Amazon for less than $50. There are lots of different colors and styles, including stone, brick and even wood panels.

Extend the wall panel from floor to ceiling, and this makes the fireplace look larger and more grand. They make a nice-looking backdrop behind a fireplace (and they are cheap!).
How to Add a Stone Backdrop Around Your Fireplace Mantel:

This electric fireplace may be slim, but it's not short on heat. It includes a 1400 watt heater (rated over 4700 BTUs/hour).
This electric mantel offers a great option for adding a heat source to a small cottage. Plus, it requires minimal work to install (and no construction!). Not to mention, this unit only weighs about 53 lbs. That's right, You don't even need 2 people to install this fireplace.
The Slim Line also can add lots of ambiance to a master bedroom, where a simple click on the remote control can adjust the flame or heat. Priced at under $350, it's hard to pass up this master bedroom upgrade (or den, dining room, home office, etc..)
Furthermore, you can get the Real Flame Slim Electric Fireplace in multiple colors.
It is shown in the pecan color, but you can also get a similar model in Black Maple and White. (Note slight measurement, design and price differences due to different models).
Real Flame Slim Electric Fireplace Specs:
Approximate Dimensions: 46″ wide x 8.7″ deep x 42″ high
1400 W Heater
Solid & Manufactured Wood Construction
Ultra Bright Vivid Flame LED technology
Package Includes Remote Control, Thermostat & Timer