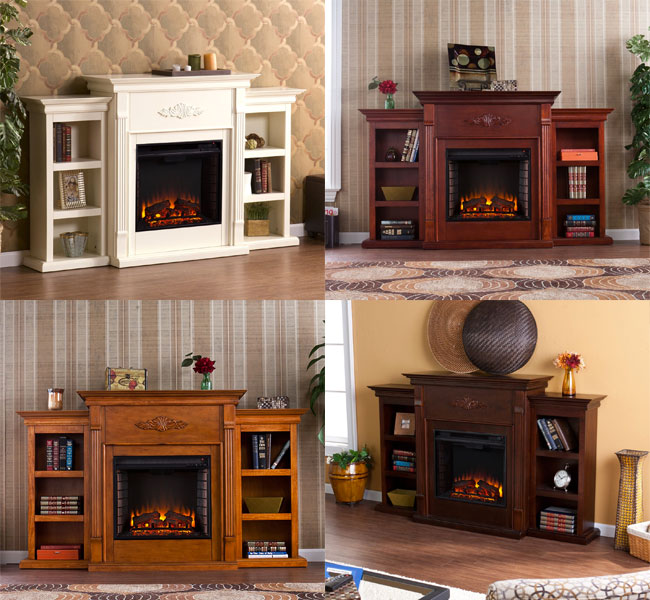 Get More Information
The Tennyson is an elegant electric fireplace with a bookcase on either side. It is more substantial than a recessed model or a version with just a plain mantel. If you are looking to decorate a large or empty wall, the Tennyson fireplace can be a great fit.

Although this portable unit costs less than $600, it features intricate traditional carvings and moldings throughout. It appears more expensive than it costs. Plus, its timeless design adds even more value because it never goes out of style.
On top of that, time flickering flames are pretty realistic along with the glowing (and pulsating) embers. I think the interior brick backdrop adds a nice touch as well.
The Electric Fireplace with Bookcase Offers Lots of Functionality…
The bookshelves provide extra storage for books, DVDs and other decorative items. Furthermore, the mantel can hold a flat screen TV (up to 85 lbs) above the firebox. It is very functional without taking up much floor space.
In addition to the storage features, the Tennyson can also heat up to 400 square feet of space. It is perfect for a large family room, living room or even small cottage.
It comes with a remote control, which adjusts the flame level, heat and glow of the embers. Plus, you can use it to turn on the timer.
Save Money with an Electric Fireplace…
1. LED Bulbs:
Similar to other electric fireplaces, you can turn on the flames without turning on the heat. If you want to enjoy the ambiance of flickering flames without paying for heat, you can!
Without heat, the only energy you are using is that which powers the LED bulbs, and this is very, very cheap (pennies per hour). This is a great feature that you can't get with gas or gel models, pellet stoves or wood burning fireplaces. It's a great way to save money.
2. Easy Installation:
Another great cost savings that comes with these electric-powered fireplaces is that they don't require special installation or permits. Simply assemble it and plug it in to the wall.
You don't need venting, a gas line or a chimney. Electric units provide a cheap and simple way to renovate your home without having to hire a contractor or pay thousands of dollar for a remodel.
Tennyson Electric Fireplace Specs:
Dimensions: 70.2″ wide x 14″ deep x 42.2″ tall
Weight: 65 lbs
Supports TV up to 68.25″ wide and 85 lbs
6 fixed bookshelves support up to 15 lbs each
Comes in 4 colors: ivory, espresso, glazed pine, mahogany
Includes 6′ long power cord, plugs into regular wall outlet
Heating/Power: 120V/60Hz, 1500W, 12.5 Amps
Some Assembly Required
For Sale: Where to Buy the Tennyson Fireplace
Southern Enterprises, Inc. makes affordable, multi-functional furniture which also happens to be super stylish at the same time. Many of their items save on space with compact designs, plus they feature easy-care and low-maintenance fabrics and materials.