Do you want a slim frame fireplace that can recess into a wall without needing a lot of depth? The Mystflame Slim Electric Fireplace only measures 5.51″ deep, plus you can hang it on a wall or use it freestanding as well.

More Advantages of Mystflame Electric Fireplaces:
1. In addition to being easier to install, the Mystic also comes in a variety of widths, measuring between 50 inches and 95 inches wide. Therefore, you can customize the size to fit your room.
2. The kit also comes with both a traditional-looking log bed and a more modern crystal ember bed. So, you can design the fireplace you've always wanted.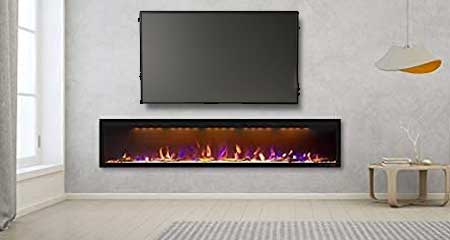 3. Keep in mind that however you decide to set up your firebox, you can change the flame colors. The fireplace comes with both a touch screen and a handy remote control. So, you can control the power, flames, heat and timer from across the room!
4. Speaking of heat, this electric unit can heat a 450 square foot space. Alternatively, you can turn on the flickering flames and enjoy the instant ambiance without using the heater. (This is a simple trick I use when I want to conserve energy.)
Note: As like other electric fireplaces (or real flames for that matter), the fire appears brighter the darker the room. Therefore, the flames don't look as bright during the middle of the day.
Mystflame Fireplaces are Easier to Install:
One of the big advantages of buying an ultra slim electric fireplace is the ease of installation. You don't need as much space to recess the unit in the wall, plus it's easier to maneuver because it weighs less. Not to mention, this vent-free unit doesn't require any venting.
All that said, extra slim fireplaces still come with all of the functions of standard depth units. And, the Mystflame puts out realistic flames due to its high-intensity LED bulbs.

In addition, the manufacturer includes easy-to-follow directions specifically so that homeowners can install the units themselves. Note: the power cord plugs into a standard wall outlet. See installation instructions here.
Note: By the way, the Mystflame offers several different options as far as installation. For example, you can fully or partially recess the fire box, wall mount it or set it up as a freestanding fireplace.

Electric fireplaces with a slim design actually make a great choice for people who want a wall-hung model because they don't stick out as much. Not to mention, you can relocate them and take them when you move since they aren't permanently attached to the house.
Specs for the Mystflame Slim Electric Fireplace:
Dimensions: Sizes Range Between 50″ to 95″ Wide
Depth: 5.51″ Deep
Weight: 44-80 lbs (depending on size)
Power Cord Length: 6 Feet Long
Power: Plug-in
Frame Color: Black
Material: Black Tempered Glass Panel & Sheet Metal
Realistic LED Flames
9 Flame Color Modes
Heating Area: 450 Square Feet
Heat Settings: 750W/1500W
Voltage: 110V
Package Includes Remote Control
Has Thermostat: Yes
Temperature Range: 62°F To 86°F
Has 1-9 Hour Timer Function
Includes Overheat Protection
Brand: Mystflame Direct
For Sale: Where to Buy the Mystflame Fireplace