ClassicFlame has developed "Spectrafire", realistic-looking flickering flames that closely match the appearance of gas fireplace flames. This high tech fire even includes those blue and amber highlights.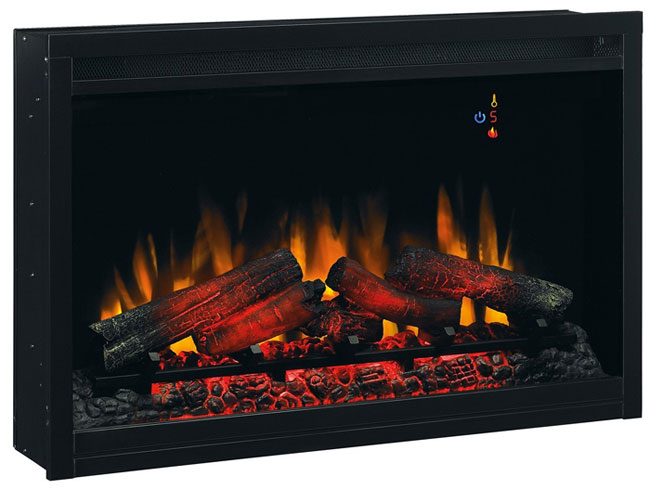 In addition, the log set has a realistic-looking pulsating and glowing ember bed. If you want an electric fireplace that… doesn't look electric,
Spectrafire make a good choice. See what I mean:
Unlike a gas unit, however, you can change the color of the flames with the push of a button. Additionally, the ClassicFlame features multiple brightness and color options. You can completely customize the look of your fire depending on your mood.
Get Double the Pleasure at 1/2 the Cost with a Classic Flame Fireplace?
Furthermore, you can enjoy this electric fireplace
year-round at minimal cost. In fact, in the flame-only setting, the ClassicFlame costs only pennies to operate per hour.
Turn it on and enjoy the ambiance without having to produce extra heat.
I really like this feature of electric fireplaces. Why go to the expense of building or installing a fireplace if you will only enjoy it half of the year, right?
With electric, you can enjoy that romantic ambiance anytime of year.
The Benefits of Zone Heating

Electric fireplaces with heaters (like the Classic Flame) offer the advantage of zoned heating. Zoned heating enables homeowners to cut their electric/gas bill simply by warming certain areas of the house instead of the whole thing.
Whereas some people are installing zoned heating systems, you can achieve similar savings by using a fireplace instead of your whole-house heating unit. Use your HVAC unit when you need to, and switch to zone heating when you don't need to warm the entire home.
This powerful unit can heat up to a 400 square foot area. Therefore, you can easily heat a living room, family room or great room. In fact, you can wall-mount the thermostat to easily control the temperature of the room.
Install the Classic Flame in Your Existing Fireplace… or a Wall
You can recess this unit into a wall for a clean, minimalist look. In addition, this option enables you to add a fireplace to a room without taking up any floor space.

By the way, the package includes a total surround flange for flush mounting and a finished look.
Alternatively,
you can install this insert into your existing fireplace. This option works well for people with existing wood-burning fireplaces who want to convert to cleaner energy source.
The unit comes with an integrated junction box for hard-wire applications as well as a 3-prong plug. Included instructions explain how to set up your fireplace properly.
This 24″ x 36″ model fits many standard fireplace openings. However, if you need a smaller size, check out the 23″ version or 18″ version.
What Do I Think?
This model works well for people who want to switch their wood-burning fireplace to electric. It also makes a great solution for those who prefer a wall-recessed fireplace. The realistic flames make it worth paying he extra money, in my opinion.
On the other hand, this unit costs more than some all-in-one electric fireplaces that include mantels. In addition, it's not as easy to install as wall-mounted units because you have to recess it. If you prefer a quick-and easy installation process or prefer the look of a mantel, this insert may not be your best choice.
Classic Flame Electric Fireplace Specs:
Dimensions: 36″ wide x 24″ High x 7.6″ deep
Weight: 67 lbs
Power: 120 Volts
Heat: 4,400 BTU's
Heating Capacity: Up to 400 Square Feet
Includes Remote Control
Model # 36EB110-GRT