While most electric fireplaces are designed for indoor use only, you can use the Sideline Touchstone 80017 indoors or outside.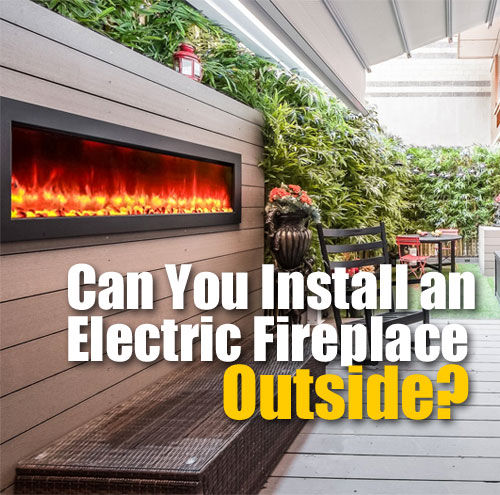 Yes, You Can Have an Outdoor Electric Fireplace!
Touchstone specifically created this unit for customers who want an outdoor fireplace option for their patio or porch. It comes with a ground fault plug and is water resistant.

In addition, you can mount it high on a wall. Therefore, it stays clear of any groundwater. Hang it on outer walls made of stucco, brick, siding or stone. Wall mounting brackets come with the package.
Due to its shorter height and lighter weight, you can hang it more easily. That said, this 50″ long fireplace makes a big impact on a space because of its sizable length.
Bonus Features Make Outdoor Electric Fireplace Easy to Use:
Similar to indoor-only models, this outdoor electric fireplace comes with a handy remote control unit. Turn on your patio fireplace from inside the house or across the porch
It also features a convenient automatic timer system. Therefore, you can have your flames turn off in 30 minutes, 7 1/2 hours or anywhere in between.
These nice bonus features make this model really easy to use. Not to mention, you feel like your outdoor living room is part of the house.
Downside of the Touchstone Outdoor Electric Fireplace
Unlike gas or wood burning fire pits, this wall unit does not put out heat. The flames provide ambiance and some light, but don't expect to get warm sitting next to it.
Note: That's where an outdoor infrared space heater comes in handy. This convenient energy-saving unit works via remote control and even has a timer function!

Plus, you can position this portable space heater closer to your seating area. Therefore, guests can stay warm and comfortable, even without having to sit right up next to the fireplace. =)
However, the advantage to having a non-heat producing electric fireplace is that it is super cheap to operate. It also costs less to buy than a traditional outdoor fireplace. Plus, you don't have to continually replace the gas tank or clean out ashes. Stick that in your back pocket!
See how the multi-color flames look in this 30-second video clip. Although it may not look identical to a wood-burning fire, consider the fact that you probably will not be standing right up close to it to notice. =)
Get More Information
Touchstone 80017 Indoor/Outdoor Electric Fireplace Specs:
Dimensions: 6 x 50″ Wide x 18″ Tall X 6″ Deep
Fire Box Dimensions (for recessing): 47.6″ Wide x 16.75″ Tall x 5.25″ Deep
Frame Color: Black
Weight: 45 lbs
Voltage: 120V
Amperes: 11 and up
Flame Colors: Blue, Red/Orange, Combination of All 3 Colors
Flame Settings: 5 Levels, from high flames to glowing embers