A fireplace can add ambiance and warmth to virtually any room. In addition, a color changing electric fireplace delivers the unexpected. Change the color depending on your mood, or set the unit to cycle through all colors!

Why Get a Recessed Electric Fireplace that Changes Colors?
First of all, multi-color flames add life, interest and movement to the room. They can enhance your mood or help you to relax.
Unlike traditional gas or wood burning fireplaces, electric versions can run continuously, costing just pennies per hour (without heat). Entertainment can't get much cheaper than this, right?
On top of the unique features that PuraFlame's "Alice" fireplace gives you, it conveniently recesses into a wall.
Therefore, it doesn't take up any extra space in the room.
Due to their compact size, people install recessed electric fireplaces in bedrooms, bathrooms, kitchens, entryways and family rooms.
You don't have to worry about running into them or tripping over them in a narrow space, for example.
Note: By the way, I've posted the 4 different size options below. You can choose a more traditional 40″ version up to a longer, more modern 68″ length.

You can see the vents at the top of each unit. That is where the heat blows out of each fireplace.

Do Electric Fireplaces Save You Money?
Since the flames don't produce gas, electric fireplaces don't require venting. Thus, installation is much cheaper, easier and faster.
A lot of people switch to electric fireplaces because you can install them without having a chimney. Plus, you can use them with or without heat, making them much more cost-effective. (For example, run it in the summertime without heating up the room.)
Not to mention, you don't have to pay a chimney sweep for annual cleanings nor do you have to regularly dispose of ashes. Get the PuraFlame Alice Fireplace in 4 Lengths: 40″, 50″, 60″ or 68″
Do Electric Fireplace Flames Look Real?
I'll be honest. Although these flickering LED flames have a "realistic effect", they won't trick you into thinking you've got a real fire. In fact, no fireplace can.
Having said that, people typically buy electric fireplaces for their cool LED light effects. Like this color changing electric fireplace, for example. A real wood-burning or gas fire can't do that.

Note: In other words, you can still get ambiance, heat and enjoyment from an electric fireplace. Just don't expect it to look exactly like a real fire.

It's kind of like eating low fat ice cream. Kind of.
PuraFlame Fireplace Package Includes:
Compared to other electric fireplaces, this PuraFlame recessed model comes with both a traditional log set AND clear crystals for a more modern fireplace.
Therefore, you don't have to decide between one or the other. In fact, you can switch between the 2 options if you want to change the feel of your room.

In addition, the package includes a remote control which lets you easily adjust the flame color and the hue of the crystal bed.

The remote also can control the thermostat or temperature setting on your fireplace. Plus, you can increase or decrease the heat output of the heater from high to low (or off).
Furthermore, you can use the handheld device to set a timer on your fireplace to automatically turn off the unit. Timer settings run from 30 minutes to 9 hours. I find this feature quite handy.
Firebox
Glass Panel
Remote Control
Crystal Stone Set
Log Set
User Manual
How to Install the PuraFlame Recessed Electric Fireplace:
PuraFlame designed this unit to install flush against a wall. You can either hardwire this fireplace to your home's electrical system or plug it into a wall outlet.
Note: If you prefer to have a wall-mounted electric fireplace, check out the Moda Flame Houston 50″. You can simply hang this model on a wall without having to cut into drywall.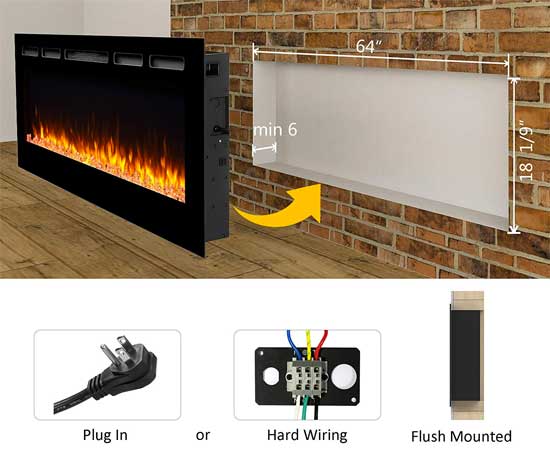 Specs for PuraFlame Alice Color Changing Electric Fireplace:

Dimensions: 72.5″ Wide X 23.4″ Tall x 10.8″ Deep
Weight: 125 lbs
Material: Metal, Tempered Glass
Input Voltage and Frequency: 110V, 60Hz
2 Heater Settings: 1500 Watts (High) and 750 Watts (Low)
Heat Output: to 400 Square Feet
13 Ember Bed Color Options
3 Flame Color Options
Model #" EF175B
Manufacturer: PuraFlame
Multi Color Electric Fireplace in White
In addition, PuraFlame also offers this unit with a white frame (instead of black). Therefore, if your home has a modern white interior, and you want the fireplace surround to blend in with the wall, this unit gives you a nice option.


Northwest also makes a color-changing electric fireplace with a white frame.
Similar to the PuraFlame above, it comes with multiple ember beds, including logs, crystals and pebbles. It also features multiple heat settings, a timer function and a remote control.
However, you cannot recess this model into a wall. Rather, the Northwest is a "wall mounted" unit. The heat comes out of the top (behind the frame), thus, why you can not sink this color changing wall mount electric fireplace into a wall.