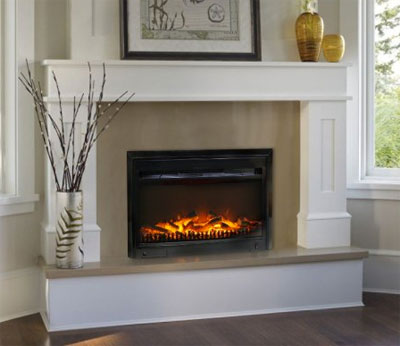 If you have an existing fireplace hearth that you want to convert to electric, you can either get a log set or an electric fireplace insert. These units can also be used with a mantle (if you have an outdated electric fireplace that you want to upgrade, for example).
Pros & Cons of Electric Fireplaces:
Inserts typically include a frame with faux walls and back that you can slide into your hearth opening for a clean, finished look. Some models also include a glass front enclosure.
However, not all inserts fit all fireplace hearths. Therefore, you may need to do some searching to find a close match for the opening of your hearth.
In many cases, though, this is not a problem. For example, most fireplaces are typically built to a standard size of 28-36 inches wide and 20-24 inches tall. In addition, many inserts come with a trim kit that covers any gaps if there is not an exact size match.
And did I mention, these can be really easy to install. Check out this video for installation instructions:
Click here for more information
As you can see, an electric fireplace insert can provide both heat and ambiance to any room in your house, and they aren't that expensive when compared to what you would pay for a wood-burning fireplace construction project or conversion to gas.
You can control the flame level as well as the heat generated – from an included remote control or the unit itself. Some also have timers. It can't get much easier than that, right?
These days, the LED flames and burning embers look fairly realistic in electric fireplaces, especially from a distance or in a dark room. That said, if you like the benefits that electric offers but you don't feel 100% about the look, you can always use a fireplace screen. This adds a more realistic touch while still letting the light shine through.
Heat on Electric Fireplace Inserts:

Want Heat?
If you are looking for a heater as much as flickering flames, take a look at infrared electric fireplace inserts. They heat a larger space, typically about 1,000 square feet.
A potential drawback is the glowing infrared heater located on the face of the unit. Unfortunately, some people think this detracts from the flames. However, people who do get this insert like it for the heat it generates.
Classic Flame's Infrared SpectraFire Plus Insert is pretty cool. In addition to being able to heat 1,000 square feet, you can choose from any combination of 5 flame colors, 5 flame speeds and 5 flame brightness levels – completely customize your fire!
Infrared SpectraFire Plus Insert Specs:
Dimensions: 34.1″ Wide x 9.64″ Tall x 26.6″ Deep
Includes digital thermostat and timer function
Infrared quartz heater can produce 5,200 BTU's of supplemental heat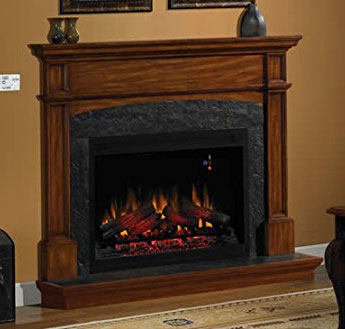 The Builders Box is one of the more popular fireplace inserts (or fire box) due to its realistic flame. You can adjust the flame brightness to 5 different levels.
In addition, there is a down light to enhance the flame effect.
The unit can provide heat for a 800 square foot space or used with flames only. You can also hardwire it. This is a 220V unit.
Insert Your Electric Fireplace into a Wall
But wait! If you don't have a fireplace mantel don't worry! You can install this fire box directly into a wall. The surrounding trim included as well as the fixed glass panel on the face of the insert give it a finished look. You can use it whether you have a hearth or not.

If you prefer a more modern look with clear crushed glass and changing flame lights as opposed to the traditional log and burning ember style, check out their "Contemporary" model.
It has approximately the same features, heating capabilities and measurements as the traditional version.
Electric Fireplace Insert Specs:
Dimensions: 36″ wide x 7.6″ deep x 24″ tall
4600 BTUs/1400 W/11.7 AMPS (traditional) BTU of 8900/2800 W/11.7 AMPS (contemporary)
Click here for more on the Builder's Box Fireplace Insert