A big reason why people are attracted to electric fireplaces is that they are so easy to install. In fact, many ventless electric fireplace installations can be completed by the homeowners themselves.
A ventless electric fireplace is exactly what it sounds like: it requires no venting like gas or wood burning hearths. This factor alone reduces a significant amount of cost and work involved in the project. Furthermore, homeowners now have more options as to where they can put their hearth.
The work involved will depend on the type of electric fireplace you get. However, typically you will either plug the unit into an electrical outlet or hardwire it into your home's existing system.
Let's look at 6 different types of electric fireplaces:
1. Log Inserts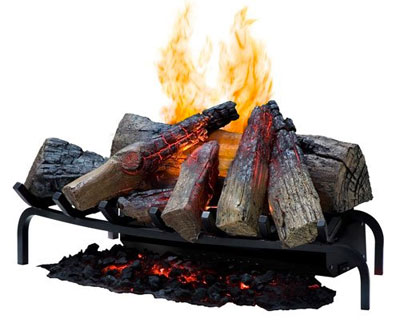 This option is ideal for homeowners who want to convert their existing gas or wood-burning hearth into electric. Typically, faux logs sit atop a metal grate with a heating/flame unit located underneath. These simply can be plugged into a regular wall outlet.
There are a couple of options here.
You can choose to have an electrician add an outlet behind where the logs will be placed so that the power cord is easily concealed.
If you have a wall outlet located near the outside of the hearth, you may be able to forego the cost of the electrician. Run the power cord along the floor/wall and cleverly conceal it with a fireplace screen, planter, basket or other home decor accessories.
2. Plug-in Firebox Inserts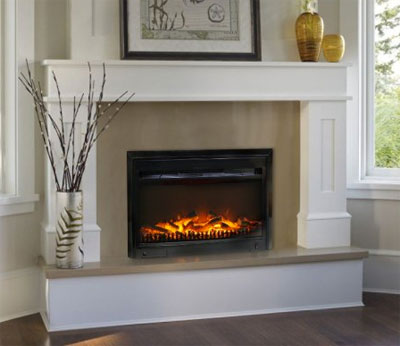 These models can either be placed into an existing hearth (like above) or into a mantel purchased or built separately. As the name states, these inserts come with a power cord which you plug into a regular wall outlet.
If you plan on using an existing fireplace surround, the most complicated aspect of the project will probably be matching the size of the insert the frame of the hearth. To make your installation easier, look for firebox inserts that have adjustable frames that you can move to custom-fit the size of your space.
Classic Flame Fireplace Inserts
3. Built-in Firebox Inserts
Built-in fireplaces are designed to be flush-mounted into a wall and therefore need to be hardwired. There is more cost and work involved, since many times this involves cutting a hole into the wall.
This version offers a very clean, modern look and takes up virtually no space since it sits within the wall itself. This type of fireplace can work well in a small room such as a bedroom or bathroom. That said, sizes range quite large and make an impressive focal point in a living room or family room.
4. Wall-Mounted Units

Wall-mounted fireplaces are generally the cheapest styles and the easiest to install. They are designed to hang on a wall like a painting or piece of artwork and plug into a regular wall outlet.
Although they are not meant to look like a real fireplace, some people position them above an entertainment center or within a wall shelving unit or armoire for a more built-in look.
If you prefer to center your fireplace on a wall, here is a diy tutorial for concealing wires and cords. You can even construct your own mantel, although this project requires a little more work.
Another great feature of wall hanging units is that they can easily be moved around. Here's a video showing the easy installation process:
Wall-Mounted Fireplaces
5. Free-Standing Electric Stoves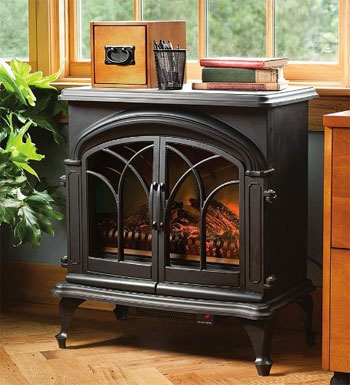 Many of the free-standing electric stoves are designed as moveable space heaters. At the same time, they are cleverly disguised as wood burning stoves. These stoves look great in a corner or right up against a wall. They simply plug into a wall outlet.
Many styles are usually inexpensive and lightweight, yet they can add charm and ambiance to any space, not to mention heat! They work better in smaller rooms because of their smaller size and the amount of heat that they generate. Many units can heat up to a 400 square foot space and are energy efficient if you don't want to heat your entire home.
6. All-in-One Unit Including Mantel or Cabinet
If you have a plain room with a blank wall and want to add a custom looking fireplace, an all-in-one fireplace unit makes your job easy. Choose from a variety of styles, ranging from rustic river rock mantels to modern entertainment centers with room for a TV.

Generally, the all-in-one's come with power cords that plug into a wall. Since these versions have frames larger than stand-alone inserts, you can easily hide the power cord behind the unit itself.
Faux fireplaces look more and more attractive. Whether you choose a style that passes as the real thing or you opt for a fascinating color-changing unit that will entertain your guests for hours, know that you can save a lot of time and money on the installation!