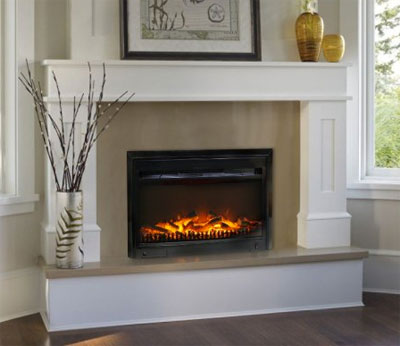 We all enjoy the flickering flame of a fireplace, but some of us want to use our hearth to heat (or partially heat) our home. So the question is, "Do electric fireplaces give off heat?"
Many units do act as heaters, and they can work surprisingly well to warm up a room or small space similar to a high quality space heater. That said, it doesn't mean that an electric model is best for you. This will depend on the space you want to heat.
How Heat is Generated from an Electric Fireplace:
Since electric fireplaces don't actually have a real flame, the heat typically is generated from a built-in infrared or electric heater. Therefore, you can calculate the cost to operate your fireplace as a heater by the unit's wattage multiplied by the kWh rate your electric company charges you multiplied by the time your use the unit.
Watts x kWh Rate x Hours of Use
Electric Fireplace Cost Saving Factors:
The advantage that electric fireplaces have vs gas or wood-burning is that many models provide the option to turn on the flickering flame with or without the heat. Therefore, if you want to run the unit in the summertime without additional heat, you can still enjoy the fire.
When you operate an electric fireplace without heat, it costs significantly less to run. You can enjoy a flickering fire for only pennies per hour!
Also, many consumers overlook the maintenance cost when shopping for and comparing their options. Electric fireplaces require minimal maintenance, servicing, repair or replacement parts. Therefore, they usually last longer with less expense.
How Well Do Electric Fireplaces Heat?

Most people say that gas and wood-burning hearths give off more heat than electric models. That said, we also want to keep in mind that a significant amount of that heat is lost up the chimney. Electric fireplaces are more energy efficient because they don't lose a portion of the heat they generate.
Another factor to look at when comparing electric models is that the power they use. The more power they use, the more heat they can generate. However, this means that they cost to operate as well.
To maximize heat from an electric fireplace without spending lots of money, don't heat a giant space with high ceilings. Instead, use them to heat small to average-sized rooms up to 500 square feet. Alternatively, you could use them for ambiance in a larger living room.
Electric fireplace heaters can be found in a variety of styles: wall-mounted, free-standing models, TV stands with built-in fireplace inserts and smaller portable units.